View Our
Draft Supplemental EA
View Our
Draft Supplemental EA Appendices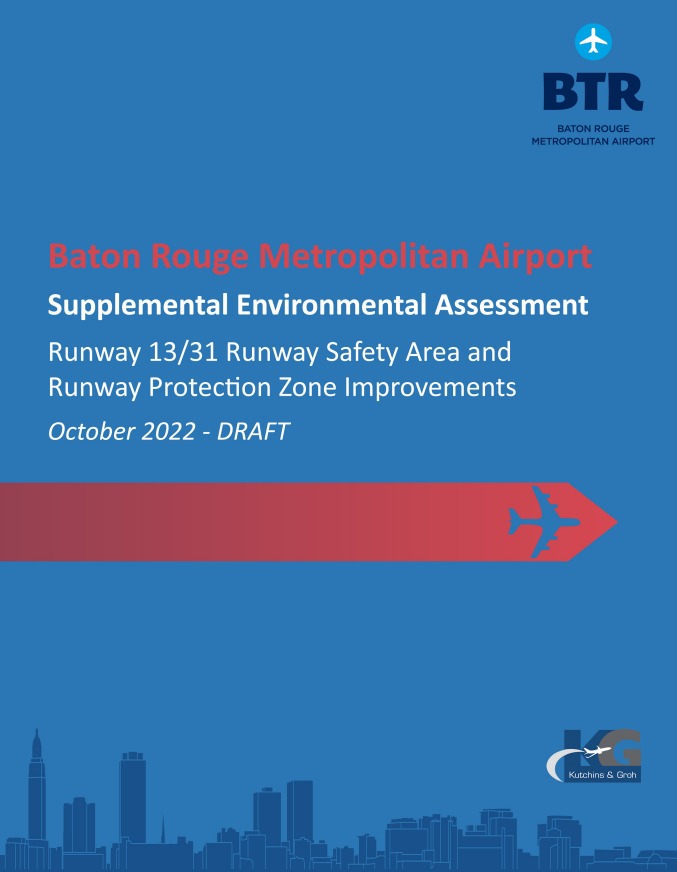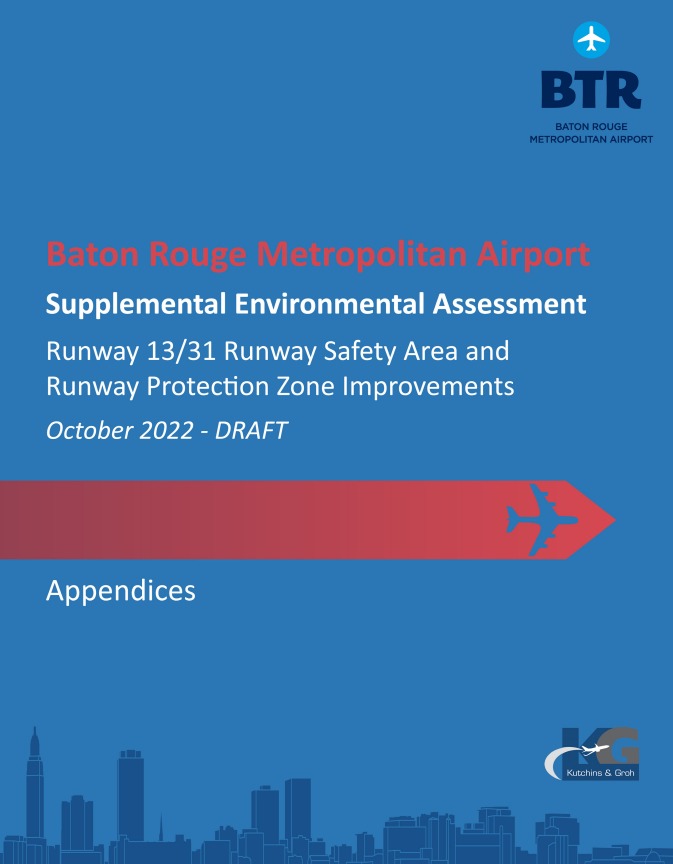 ​​​​​​​

Airport Master Plan Update
Supplemental Environmental Assessment For Runway 31
As part of the BTR Metropolitan Airport 2016 Master Plan update, a study used to determine the long-term development plans for an airport, including existing conditions and future growth, capacity and facility requirements, an Environmental Assessment (EA) was conducted to analyze various safety and efficiency projects to provide a
standard Runway Safety Area and Runway Protection Zone for Runway 31 at the Baton Rouge Metropolitan Airport (BTR). The EA was completed in April 2018. The Federal Aviation Administration (FAA) reviewed the EA and issued a Finding of No Significant Impact (FONSI) on June 13, 2018.

Following the FONSI, the Louisiana Department of Transportation and Development (DOTD) raised traffic flow and safety concerns regarding the road construction plans for Plank and Hooper/Harding Roads. To address these concerns, DOTD offered two refined alternatives designed to improve traffic flow and safety while remaining within
the existing rights-of-way (ROW). The refined alternatives also include options that eliminate traffic lights in several locations.

As part of the road construction approval process, BTR is required to conduct a supplemental EA to examine any potential impacts proposed by these refined alternatives. The general boundaries of the supplemental EA project area are virtually the same as those examined in the original EA, which encompass key intersections at Plank and Hooper/Harding Roads. The main difference between the original EA and the Supplemental EA is the introduction of grade separation (bridges) at key intersections of existing Plank and Hooper/Harding roads and at the intersection of the new Plank Road ROW and Hooper Road. These bridges should not result in any significant impacts in the project area.

A public hearing will be held Thursday, June 16, 2022, from 5:30 – 7:00 p.m. at ExxonMobil YMCA, 7717 Howell Blvd., Baton Rouge, LA.