Taxi Services
Bayou Taxi: ​​​​​​​225-274-0608
​​​​​​​Fini Cab: 225-802-4434
Hello Taxi: 225-892-1538
Metro Taxi: 225-773-5687
Richards Cab: 225-229-3759
Sander's Taxi: 225-229-3759
Tammy's Taxi: 225-252-6620
Yes-Taxi: 225-926-1511
Yellow Cab: 225-926-6400 If you arrive late into Baton Rouge, Yellow Cab provides 24-hour service. Uber and Lyft are additional options.
Check cab fare estimates
http://www.taxifarefinder.com/
Shuttle Services
Airport Shuttle: 225-933-7107
---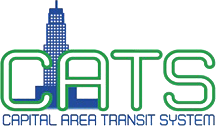 Capitol Area Transit System (CATS)
CATS Customer Care
225.389.8282

Hours:
Monday - Friday, 5 am - 11 pm
Saturday - Sunday, 6 am - 9 pm
Capital Area Transit System
2250 Florida Blvd.
Baton Rouge, LA 70802
Main Number 225.389.8920
---

Route Shout
RouteShout is a free mobile app that allows riders to see where the bus is and when it will arrive through an online bus tracking service — from their cell phones,
smartphones or the Web. This service is now available to CATS riders.
Get real-time arrival predictions and more for CATS buses with transit tracking services.
---
Problems, Concerns or Compliments?
We trust that you have had a professional and enjoyable experience. However, if by chance you have a problem or would like to communicate concerns or compliments, we want to know.
Send your comments to:
Taxicab Control Board of East Baton Rouge Parish
taxicabcontrol@brla.gov.
225. 389.3080