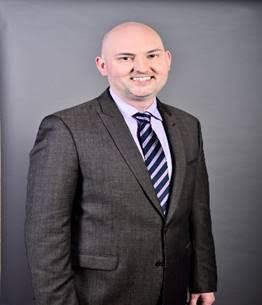 Mike Edwards was appointed the Interim Director of Aviation for the Baton Rouge Metropolitan Airport (BTR) by the Metro Council in early May 2018.
Now in his fourth year as the BTR Airport Operations Manager, Mr. Edwards has over 10 years of airport management experience. He was the Senior Airport Operations Supervisor at the New Orleans International Airport for four years, and prior to that, he was the Airport Operations Supervisor for Tweed New Haven Regional Airport.
Edwards holds a B.S. Degree in Criminal Justice Studies and Aviation Management from the University of North Dakota, and a Masters of Homeland Security from Tulane University. He has both his airplane single engine and helicopter private pilot licenses.
"I appreciate this opportunity and look forward to serving in a new and challenging role as Interim Director of Aviation at BTR," said Edwards. "We have an experienced staff that is dedicated to making BTR a continued success and providing our customers with an exceptional airport experience."
Mike grew up in the New Orleans Area and graduated from Fontainebleau High School in Mandeville, LA. He and his wife Courtney have been married for five years and have two young children, Ava and Abraham.
"We thank our customers for flying BTR, and encourage those who may not consider BTR," said Edwards. "Our new ad campaign tagline, "IT'S ABOUT TIME," references both the value of the time saved when flying BTR and a request to always check BTR for those who may not. The average business traveler spends an additional $200 when driving to an alternate airport when time, costs of driving, and more expensive parking are considered. And the most effective way to increase air service is to keep our existing BTR flights full to show the airlines that additional service is warranted."
About BTR
The Baton Rouge Metropolitan Airport is served by the major, network airlines – American, Delta, and United – with hub flights that provide access to and from destinations worldwide. It is the second largest airport in the State and Upper Gulf Region by passenger volume. The Airport is administered as an Enterprise Fund, generating its own revenues for operations as opposed to receiving local tax funds. BTR is a major economic engine for the Baton Rouge area with a $1.1 billion annual economic impact supported by 4,500 jobs.